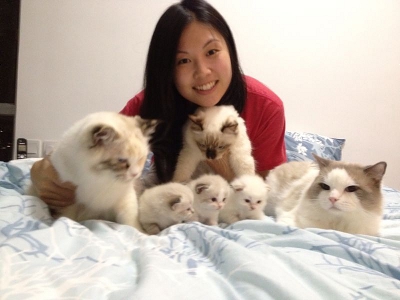 Rockarags (樂嘉布偶貓舍) is a small hobby CFA and TICA registered ragdoll cattery in Hong Kong (Special Administrative Region of China). We started raising ragdolls in early 2011 from healthy quality breeding lines originating from the U.S., Spain and Sweden.
Our feline friends are part of the family, lovingly raised underfoot and placed in wonderful homes that will spoil them as well. Rockarags kittens are playful, well-socialised and possess dazzling blue eyes and bunny-soft coats. They come in seal, blue, tortie and also the rare chocolate and lilac colours, as well as in the mitted, bicolour, lynx and colourpoint patterns.
You can pick up your Rockarags kitten at the age of 8-12 weeks, with CFA registration papers (including show rights), its first set of shots, free of internal/external parasites (dewormed), its health record and three months health insurance. We promise that at our cattery, all of our ragdolls are genetically healthy, and we provide a three year genetic health guarantee to protect you and your new kitten. We also give our kittens a "mini" show bath before they leave.

We do not believe in declawing here. When adopting a Rockarags kitten, you agree to never declaw or give the kitten away to an animal shelter.