On March 14, Disney did us all proud by bringing home the 7th best kitten (overall) rosette from the HKICC Champion Cat Show 3. What are we going to do with all these awards the li'l guy keeps bringing in?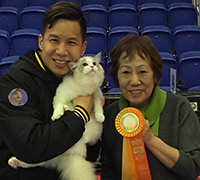 Disney brought home the 9th best kitten (overall) rosette from the E-Max FBI Spring Champion Cat Show 2015 on March 7. He's now the highest awarded Rockarags cat!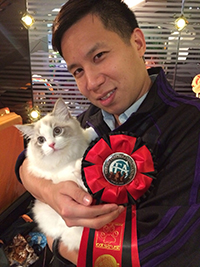 On February 15, Disney brought home the 8th best longhair kitten rosette from the 2015 Valentine's championship cat show. He has a promising future as a show cat and will head the Taiwan branch of Rockarags later this year.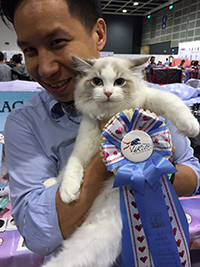 Princely became a CFA champion on Sunday, February 8, 2014 at the 2014 CFA International Championship Cat Show.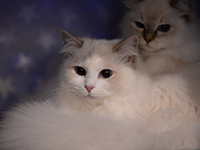 Snow and Cam became CFA champions on Sunday, February 3, 2013 at the 2013 Spring Championship Cat Show. Well done, girls!
(Will update with a photo soon...)
On Saturday, June 16, 2012, PB brought home the 7th best longhair champion rosette from the 2012 UFO Early Summer Cat Show. We're so proud of him!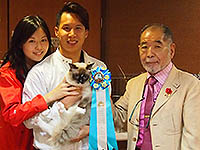 PB became a CFA champion on Saturday, March 31, 2012 at the United Feline Organization Spring Champion Cat Show.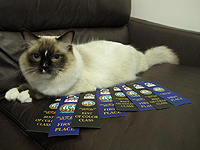 Ocean and Butter became CFA champions in their first show on Sunday, April 10, 2011 at the Hong Kong and Macao Cat Club/Hong Kong Shorthair Cat Club/Persian & Exotic Cat Club Cat Show.